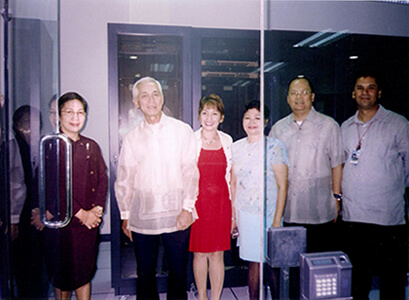 MANILA - DBP Data Center, Inc. (DCI) marked another milestone in its Information Communications Technology (ICT) Resource Implementation Project with the Insurance Commission (IC) as it inaugurated the Commission's new IT facility in a soft launch ceremony on Friday, April 27, 2007.
Honored Guest Department of Finance Secretary Margarito Teves witnessed the ceremonial turn-over of the proximity card, which is the key to the data center, to Insurance Commissioner Evangeline Escobillo.
The new data center is the first step in the Commission's efforts to streamline and improve its delivery of services.
Once fully-functional, the data center shall host a number of systems that shall allow the Commission to efficiently monitor transactions within the insurance industry, which shall translate to better consumer protection for the citizenry 'The industry and our public can certainly expect increased efficiency in the delivery of our service owing to our new data center,' said Commissioner Escobillo. Earlier this year DCI, a Government Owned and Controlled Corporation (GOCC) with the technical expertise to bring the public sector towards IT enablement, signed Memorandum of Agreement with IC, stating that DCI shall provide technical support to the Commission in its goal to automate their systems.
The IT facility, consisting of a data center, an IT office and an IT conference room, is part of IC's Information Systems and Strategic Plan (ISSP) 2006 - 2008, which DCI helps implement.
DCI also provides IC with trainings on desktop management, basic information security and computer applications, among others.