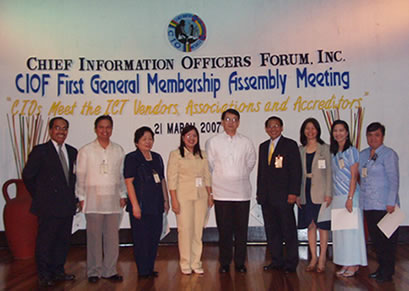 QUEZON CITY - DBP Data Center, Inc. (DCI) President and CEO Clarito L. Magsino was inducted as Vice President of the Chief Information Officers Forum, Inc. (CIOF) for 2007-2008 during the organization's first general assembly last March 21, 2007 at the AFP Commissioned Officers Country Club, Camp Aguinaldo, Quezon City.
The CIOF, a professional organization of Government IT executives which facilitates, steers and participates in the formulation of ICT policies and promote excellence in information management in Government, introduced its new set of officers as well as reported the Forum's accomplishments for the past years.
According to Atty. Ivan Uy, CIOF Outgoing President, the organization's activities last year included seminars such as 'The 3C's (Competence, Character and Capability) in eGovernance, CIOF Conference on Business Intelligence for Government,' and 'CSI in Government: Challenges in Securing I.T. in Government.' CIOF 2007-2008 proposed activities were also discussed during the assembly.
'CIOF has a lot of things planned for the year. It's a very promising organization and a lot are in store for our members.' said Mr. Magsino. When asked about DCI's role in the Forum, he remarked, 'DCI supports CIOF's advocacies and will certainly be contributing to its endeavors.' Other members of the CIOF 2007-2008 Board of Directors are: Lilia C. Guillermo, Bureau of Internal Revenue (President); Ma. Esperanza M. Espino, Bases Conversion Development Authority (Secretary); Annette P. Manansala, Department of Environment and Natural Resources (Treasurer); Bernardita DP. Gerez, Commission on Audit (Auditor); Virgilio M. Gaje, Philippine Information Agency (Press Relations Officer); Josefa A. Vidal, Philippine National Police (Director of Membership); Hector John T. Manaligod, University of the Philippines (Director of Ways and Means); Daniel Pabelleon, National Economic Development Authority (Director for Special Projects); and Ma. Remedios N. Alcera, Technology and Livelihood Resource Center (Executive Director).