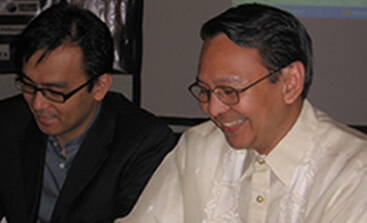 MAKATI CITY - DBP Data Center, Inc. (DCI) President and CEO Clarito L. Magsino, along with other representatives from the public and private sectors, signed a Memorandum of Understanding on the Private and Public Sector Partnership on Cyber Security during the Information Systems Security Society of the Philippines (ISSSP) event titled Cyber Security: Building Our First Line of Defense Forum held on May 9, 2007 at the Makati Sports Club.
The MOU forges a collaboration among various organizations for the implementation of the National Cyber Security Plan (NCSP) formulated in 2005.
The NCSP provides broad strategies towards proactively protecting Philippine cyber space through a National Coordination Center, which shall be under the direct supervision of National Security Coordinator Undersecretary Virtus V. Gil. The commitment of all sectors, private and public, underscores the importance given to Philippine cyber space security and the necessity to take an active role in addressing cyber security issues facing the country.
Other MOU signatories were Executive Secretary Eduardo R. Ermita, National Security Coordinator Undersecretary Virtus V. Gil, Commission on Information and Communications Technology (CICT) Chairman Ramon P. Sales, National Telecommunications Commissioner Abraham M. Abesamis, Government Computer Security Incident Response Team (GCSIRT) Executive Director PSUPT. Gilbert C. Sosa, Information Technology Foundation of the Philippines (ITFP) President Cynthia Mamon, ISSSP Director Alfredo Torres, Philippine Computer Emergency Response Team (Ph-CERT) President Lito S. Averia, Philippine Electronics and Telecommunications Federation (PETEF) Vice President Gary Pimentel, Philippine National IT Standards Foundation (PhilNITS) President Ma. Corazon M. Akol , IBP National Committee on ICT Chairman Atty. Claro V. Parlade, and ISACA Manila Chapter Vice President Solomon B. Anastacio. Earlier this year DCI, a Government Owned and Controlled Corporation (GOCC) with the technical expertise to bring the public sector towards IT enablement, signed Memorandum of Agreement with IC, stating that DCI shall provide technical support to the Commission in its goal to automate their systems. The MOU signing was the highlight of the May 9 forum.
It was also the plenary session where results of two cyber security workshops held earlier in the month were also presented.
Cyber security workshops, dubbed 'Building Our First Line of Defense Against Cyber Threats,' were held on May 3 and May 7 to gather ideas on how various sectors can institutionalize and enable a coordinating mechanism as an initial security measure in cyberspace.
Chief information officers and information security officers of banks, insurance, transport, telecommunications and power companies attended the workshops.
DCI assisted ISSSP and the Office of the President in organizing the events by providing IT Security facilitators for the workshops. DCI is a Government Owned and Controlled Corporation (GOCC) specializing in the field of Information Technology.
Its primary thrust focuses on providing Philippine Government entities with the technical, business process and change management expertise needed when embarking upon IT related projects.
Computer Associates, Sun Microsystems, Inc., Valueline Systems & Solutions Corporation, Globe Solutions Enterprise Business Group, Intel, Philippine National IT Standards Foundation (PhilNITS), PHILCOX Philippines, Inc. sponsored the three cyber security events.